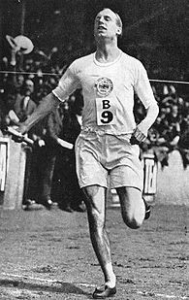 "Cease listening, my son, to discipline, and you will stray from the words of knowledge." (Proverbs 19:27)
No man, save Christ, is perfect. But what makes men and women great is a teachable spirit over a lifetime. A man who decides he knows it all or knows enough and ceases to pursue the Lord and His truth, to listen to the discipline and training of God, to learn from the lives of others, is in an incredibly precarious position and will not end well.
LEARNING FROM LIDDELL
Yesterday at my 97-year-old Dad's memorial service, my brother, Tom, shared about Eric Liddell, the famous Scottish runner who is immortalized in the film, "Chariots of Fire." Liddell is known for his uncompromising faith that caused him to back out of his signature 100-meter race for the 1925 Paris Olympics because he refused to run on the Lord's Day.
But his most famous race in Scotland happened in 1923 at a Triangular meet between England, Scotland, and Ireland. He got his legs tangled and fell a few yards into a 400-meter competition. The 400 meters takes less than a minute and when he stood up, he was over 20 yards behind the last man.
What happened next is astounding. He got up and with fire in his eyes began to run again. He ran so fast that he beat his competitors by several yards at the finish—arguable the fastest 300 yards that has ever been run in history.
He fell, but he rose again, keeping his eyes on the tape, and finishing well.
This was not his best race, though, for Liddell left an almost certain career of athletic fame for the mission field in China the same year he won the Olympic gold medal. He served there until 1943 and died in a prison camp, having served the people of China for 17 selfless years.
MY PRAYER
I carry some cinder chat in my left elbow from falling in a track meet in my early years. We all have a lot of the chat of the world on us from such falls. No doubt I will make thousands of mistakes between here and the finish line. I will need to listen to the Coach to correct my trajectory over and over and over again.
But I hope I keep listening, and rising. I pray that I will never think—in any area of my life—that I have arrived and no longer need the wisdom of God and the counsel of godly men. I pray I will maintain a wise, teachable heart that trusts and obeys with rugged determination.
And I pray that I will listen to the cries of the great cloud of witnesses who have run the race before us—which now includes my Dad—and end my race well.