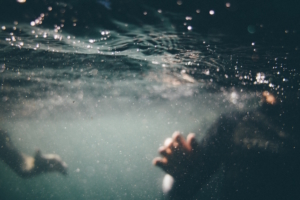 Things are different at the lowest point on earth: swimming is floating, water brings death and salty mud becomes a cosmetic phenomenon. This is what it is like in the Dead Sea basin at about 1,400 feet below sea level. It looks beautiful, but it is—as the name implies—deadly.
I recently floated in it along with other members of a study tour in Israel. Everything you hear is true, you cannot sink because the water holds you up, nothing but bacteria can live there, and people of all shapes are covered in the medicinal muck. Most notable, however, is that when the water is all around and inescapable, even at the lowest point on earth, it upholds you.
When David began to contemplate in Psalm 139 how God was intimately involved in every part of his life, he said, "Such knowledge is too wonderful for me; it is high; I cannot attain it," (v. 6). After this acknowledgement, he goes on to exclaim:
Where shall I go from your Spirit? Or where shall I flee from your presence? If I ascend to heaven, you are there! If I make my bed in Sheol, you are there! If I take the wings of the morning and dwell in the uttermost parts of the sea, even there you hand shall lead me, and your right hand shall hold me. (vv. 7-10)
With a God like that, where could David go? He could not escape and he could not be lost. He understood that the sovereignty of God was the most practical of all doctrines, bringing purpose and comfort to every situation. From the valley where he encountered Goliath to the caves of the Judean wilderness, God had not left David.
Nowhere else to go
The comfort of God's pervasive presence is that you cannot slip away from someone who knows when you sit and when you rise (v. 2). The challenge of this presence is that you have nowhere else to go. "Where shall I flee?" (v. 7), David asks. From the height of the heavens to the depths of the earth, God is near to his people—even if they cannot feel it. In this way we are all like Jonah, with nowhere to go but to God himself.
Knowing this will aid you when all your money has run out. When the financial floor you once stood confidently upon quakes and cracks, God remains. Go to Him; there is no other. When your child is rejecting your love and authority, rebelling against everything you have taught him/her, don't run from God. There is no corner to cower in where He cannot go. He is acquainted with your ways (v. 3), and if you tend to flee at adversity, remember that he knows. He planned for you.
God upholds in every situation
After David contemplates whether or not it is possible to escape the watchful care of God, he tells us what that means. "In the uttermost parts of the sea . . . your hand shall lead me and your right hand shall hold me," (v. 9-10). In the depth of the earth or the expanse of the sea, God is leading and holding me. For the believer, there is nothing more precious. God has been, is, and will be there with you.
But He is not there just to listen, to let you vent and cry upon his shoulder—He is there to lead. "In the uttermost parts of the sea, even there your hand shall lead me," (v. 10). It is certain that God will bring comfort, but He also brings direction. When an army finds itself outnumbered and surrounded after marching all night, and going without food for two days, they are not seeking comfort from the commanding general. They are seeking leadership. What are we going to do? Where are we going to go? Are we going to make it? In all of our troubles, God is there to lead.
I grew up on a dirt road, and can remember driving on it in the pitch dark numerous times through the years. The darkness made the headlights on my car indispensible. However, sometimes I would switch them off briefly to see what it would be like to drive in total darkness at that speed (this is not something to try at home). It was unnerving. Walking in the dark is one thing, but speeding along though it is another. It is dangerous and unknown, and makes you lose trust in your ability to navigate.
Life as a believer can be just like this. Not because we have unwisely switched off our headlights, but because the lights have just gone out. At some or many points in your life the lights will go out in the darkness. You may even think with David, "Surely the darkness shall cover me, and the light about me be night," (v. 11). But with him you must also hope:
Even the darkness is not dark to you; the night is bright as the day,
for the darkness is as light with you.
Psalm 139:12