Sing to One Another at the Church Meeting?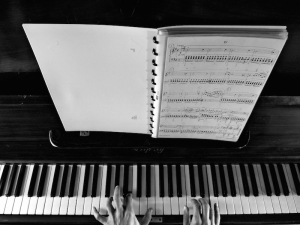 What do these verses tell us about singing in the church?
"And do not get drunk with wine, for that is debauchery, but be filled with the Spirit, addressing one another in psalms and hymns and spiritual songs, singing and making melody to the Lord with your heart, giving thanks always and for everything to God the Father in the name of our Lord Jesus Christ." (Ephesians 5:18-20)
"Let the word of Christ dwell in you richly, teaching and admonishing one another in all wisdom, singing psalms and hymns and spiritual songs, with thankfulness in your hearts to God." (Colossians 3:16)
Spirit-empowered singing is full of Christ-honoring content sung from the heart in a variety of forms, with gratitude to the Lord. But notice that not only do we sing and make melody "to the Lord," we also address one another with truth-filled songs as a way of "teaching and admonishing one another in all wisdom."
Perhaps you often think about the vertical aspect of singing in the church (to the Lord), but how exactly are we to bring in this horizontal dimension of our singing (to one another)? I can think of at least four ways.
First, the words of some songs are actually written as a way of addressing one another. For example, here's a portion of the well-known hymn "Come, Christians, Join to Sing":
Come, Christians, join to sing
Alleluia! Amen!
Loud praise to Christ our king
Alleluia! Amen!
As strange as this may sound (and feel), perhaps we are sometimes supposed to look at one another when we sing. If this is true, the person who typically has his eyes closed during the singing might need to adjust.
Second, singing robustly could be a way to address other believers in song. I once sat next to three pastors from a neighboring state at a conference. As the congregational singing began, these men sang at a volume that wasn't the equivalent of yelling, but it also wasn't very quiet. Actually, it was marvelous, and they didn't necessarily have refined voices! They made me want to join in with the same zeal, and the words we were singing became more important and meaningful in those moments. Their robust singing, and the truth we were vocalizing, ministered to my soul.
Third, these verses seem to allow for one person, a few people, or even a choir to sing truth to the rest of the gathering. Paul may have had something like this in mind when he mentioned someone bringing "a hymn" to the Corinthians' church meeting (First Corinthians 14:26). In our church gatherings, we typically have an "open session" during the meeting when people can, among other options, share a song to bless the congregation. A person could simply sing the song, but often the aim is to teach others. We have especially enjoyed learning Scripture songs taken word for word from the Bible.
If singing the truth to others (whether singing a solo or with others) is a legitimate way of applying this verse, we must be very careful—this must never be about performing for the applause of others. Our aim must always be the edification of the church.
Fourth, keep the instrumentation at the "accompanying the voices" volume, not the "drowning out the voices" level. We've all experienced this—the keyboard was especially loud, or the guitars were blaring, or the drums were deafening! In those times, it becomes nearly impossible to address one another with psalms, hymns, and spiritual songs.
"Let all things be done for building up." (1 Corinthians 14:26)