Reflections from a Week of Sickness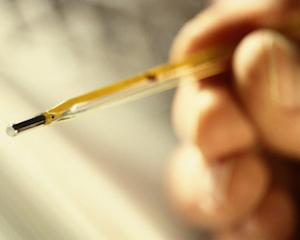 It was 3 a.m. and I was shivering. The problem? It was hot outside, and I was in a home without air conditioning. I was also far from my home because I was teaching at a church in another state for the weekend. As quietly as I could, I made my way down two sets of stairs to the bathroom to assess my physical status. Things didn't get worse, but they also didn't get much better—the entire weekend!
Once I was home, I remained ill. It took me nearly a week to recover, and then I wrote ten reflections about what I experienced and learned. I've shared them below (in italics), in the order I put them down, with only minor changes and some additional thoughts. Perhaps they'll be a help to you when sickness comes into your life, or if it already has.
Sickness can make a person focus significantly on personal distress above everything else, sometimes resulting in unkind behavior toward others. When ill, rest is vital. However, there is no excuse for an unloving tone. When I was sick, I rationalized in my mind that I was free to behave callously because I was feeling so awfully. I'm thankful for a Savior who already paid the penalty for my sins (Rom 8:1), and for loving brothers and sisters in Christ who were forbearing.
Sickness often reduces Bible reading. I slept the majority of the first two days I was down. Sicknesses are one reason that yearly Bible reading goals should have "make-up days" built in to the schedule.
I should pray as urgently each day for God's strength as I did for God to relieve me when I was sick. I can't count the number of times on those first two days that I said something like, "Oh God, please help me!" The sickness made me know I was a weak man, but I'm a needy man even when I'm not sick!
Not being able to hug and kiss my wife and children reminded me of how wonderful it is to get to hug and kiss my wife and children.
Though I wasn't emotionally moved at the moment they came, phone calls, texts, and emails checking up on me eventually were encouraging and meaningful.
The Lord's strength is made perfect in weakness. I'm using Paul's words from Second Corinthians 12 because they fit my situation precisely. On the Sunday of my ministry trip, I was in bed almost the entire day, fighting off a fever. The church was meeting that evening in the home where I was staying. At one point, I came down the stairs to teach the group. I was very weak, but as I taught and answered their questions, I sensed the Lord was at work in a significant and helpful way. My weakness was an opportunity for Christ to reveal His power.
I long for the return of Christ and a new body more than ever. Consider these incredible promises:For the Lord himself will descend from heaven with a cry of command, with the voice of an archangel, and with the sound of the trumpet of God. And the dead in Christ will rise first. Then we who are alive, who are left, will be caught up together with them in the clouds to meet the Lord in the air, and so we will always be with the Lord. (1 Th 4:16-17)So it is with the resurrection of the dead. What is sown is perishable; what is raised is imperishable; It is sown in dishonor; it is raised in glory. It is sown in weakness; it is raised in power. It is sown a natural body; it is raised a spiritual body. (1 Cor 15:42-44a)
I feel a little more prepared to pastor sick people.
Life is short. At several points while I was sick, I asked myself, "What if this is the end of my life? What have I really done that counts for eternity?" Yes, it was just a brief bout of sickness. However, I really did ask those types of questions, and I'm glad I did. I may be chronically ill one day, or I may be diagnosed with a crippling disease. And there is no doubt that I will die! But right now, I'm feeling well physically. I want to live now in such a way that I can say with Paul at the end of my life, "I have fought the good fight, I have finished the race, I have kept the faith" (2 Tim 4:7).
Some people are chronically ill, and their physiological problems can lead to spiritual atrophy. The fervent, long-term love of believers will help them to persevere for Christ to the end. "By this we know love, that he laid down his life for us, and we ought to lay down our lives for the brothers" (1 Jn 3:16).